Amber is formed from the resin of extinct coniferous trees and is found in sedimentary deposits. The resin is produced by trees as a defence against invading insects and disease.
Hardness: 2.5
Inclusions: Insects would often get trapped in the sticky resin, and as a result, have been found perfectly preserved in Amber. These fossils have helped us uncover information on the evolutionary history of many insects. Some of the specimens found date back millions of years so, without them, we would know very little about many small insects and spiders.
Localities: Baltic region, Poland former USSR.
Mythicism: Amber was thought to cure numerous ailments with its alleged healing properties, it is also sometimes used as a an ingredient in modern day perfumes.
Coral is an organic gem; rather than being a mineral with a crystal structure, it is formed through a biological processes. Tiny living marine creatures called Coral Polyps secrete a substance which forms the tall, branching, tree-like structures which create colonies that can reach a height of up to 1m.
The branch forks are the thickest areas of Coral and it is from these parts that the precious raw material used in jewellery, large coral beads or carvings is harvested.
Coral inhabits deep water, rocky bottom habitats and typically collect on banks, seamounts, under ledges, and in and around caves; generally where there are strong currents.
Corals grow in a wide range of colours from red, white, blue to black. The most popular are the red hues such as pale pink, salmon or deep dark red.
Hardness: 3.5
Inclusions: High-quality coral is of an even colour and free of cracks, blotches, striations and holes.
Localities: Canary Islands, Taiwan, Malaysian, Australia, Italy and Hawaii.
Birthstone: April
Mythicism: Coral is one of the seven treasures in Buddhist scriptures and has been associated with the protection from evil.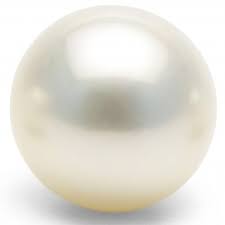 Pearls are formed in shellfish through a natural defense against irritants such as grit. The mollusc produces a material called nacre, which is a mix of aragonite and conchiolin, and excretes this to cover up the irritant within its shell. A build up of this material is what forms the pearl. The light interference between the layers of Nacre are what cause the pearls lustre. Without this lustre, the pearl would drop considerably in value.
Many shellfish can produce pearls but the best quality come from Margaritifera, an Oyster and Unio, a muscle.
Pure white or white with a faint tint of pink or yellow are the most desirable colours. They are sensitive to acids; dryness and humidity so are less durable than many other gems.
Cultivated or natural, the pearl ranks as a major gemstone. if the diamond is called the king of gems, the pearl is definitely the queen.
Hardness: 2.5 - 4.5
Freshwater Pearls are usually harvested from the Indian Ocean. Japan has perfected a process that allow them to cultivate larger pearls.
Birthstone: June
Mythicism: Pearls were once thought to be tears of the gods.